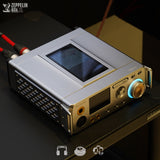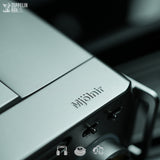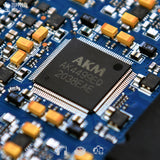 The only limit set for Lotoo had been size, but now they've roundly conquered that with Mjolnir. Limited to only 600 units made worldwide.
The ultimate Lotoo ever built is a trans-portable 4-pin XLR and 4.4mm music player and DAC/amp powered by a super battery unit. Capable of outputting up to 2.5 watts of power per channel, Mjolnir is built on AKM's final units of AK4499EQ DACs.
Mjolnir gives its prized, rare and out-of-print AK4499EQ chip from 2019 an all-metal, CNC-machined platform to shine upon.
Robust power supplies comprised of six 21700 battery cells means this Lotoo monolith works on an operating voltage of 20 volts. 
That, coupled with its silent noise floor and up to 134dB of dynamic range delivering fidelity, means Mjolnir performs about any way you want it. That means it'll drive the Empire Ears Raven and Oriolus Traillii JP, up to Focal's Utopia, ZMF Headphones' Atrium Closed and Caldera plus HEDD Audio's HEDDPhone 2 equally well. [See Product Desc. For More]