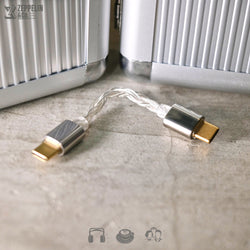 Built of high-purity 6N single-crystal copper silver-plated wire, iBasso Audio release their CB18 USB-C to C digital interconnect to raise the levels of today's best dongle DAC/amps.
With hand-braided conductors to ensure build integrity over long periods of use, and stainless steel USB heads, CB18 will go the extra mile ensuring your sound quality.
The superior digital signal transmission iBasso built into CB18 will ensure lowered jitter and digital noise from your source to your asynchronous DAC/amp. 
Expect to hear a positive difference with revealing sources like Cayin Audio's RU7, HiBy Music's FC6, iBasso's own DC04 Pro and Questyle Audio's M15, up to iFi Audio's xDSD Gryphon, into transparent transducers.
Or, ditch separate transports entirely by going the DAP route with iBasso here, or view all our other cables here.