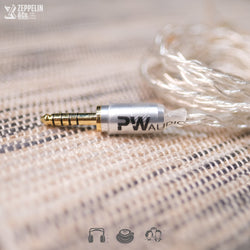 PW Audio No. 10 (Headphones)
No. 10 is OCC copper, but PW Audio have managed to inject a silver-like level of upper frequency energy and detail in this build, perfect for teasing out the last bits of resolution Fostex's TH900 is capable of.
Such differentiation to No. 5 is appreciated, because here is a cable that alternates perfectly with its sibling in PW's line.
No. 10's greater detail isn't achieved at the expense of the smooth, toe-tapping addictiveness that defines Peter Wong's creations. Vocals still remain sweet, and bass goes deep serving as a foundation for its open, soaring highs.
See what you can further achieve with actual silver with Silver Liars, or view the rest of our PW Audio cables here, and our other cables here.