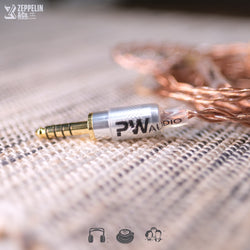 PW Audio No. 5 (Headphones)
PW Audio's flagships often take the headlines, which is why No. 5 surprises everyone for the level of immersion it promises as one's first upgrade cable for the Fostex TH900.
No. 5 behaves exactly as you'd expect a copper cable to perform, providing warm high-end detail without fatigue, and smooth liquid mid-ranges. 
Despite its obvious colouration, PW Audio's basic No. 5 still respects the accuracy of your music and recordings, offering little to no exaggeration in the bass frequency regions.
Or you can enjoy a very different view from No. 5's counterpart, No. 10, here. Also view the rest of our PW Audio cables here, and our other cables here.