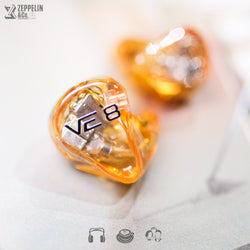 Effortless listening, defined. Vision Ears achieved the masterful feat of packing so much resolution, yet making it easily accessible, in VE8. 
Two bass drivers contribute to the eight balanced armature driver count in VE8, yet they still supply a surprising amount of volume, depth and mass. This flagship saturates the lows and they get conveyed with authority, cleanly defined with tons of articulation.
It's in the mids where Vision Ears pulled off the greatest trick, producing maximum information retrieval and headspace without a hint of fatigue. There is tons of insight to be gained in your music through a listen to VE8. And for even more detail, PW Audio's Genesis surfaces as an ideal upgrade cable candidate. 
And yet you could listen for hours basking in the naturalness of the presentation with nary a hint of harshness. Highs are open and convey a sense of ease – Headfonia found VE8 exactly to his liking, and Headfonics lauded its toe-tapping engagement.
The Headphone List thought Vision Ears crafted the Goldilocks of all flagships for how it seemed unfazed by any kind of music, the kind of versatility that Headphonesty similarly lauded.
For a splash of extra sparkle in the highs, VE8 can also be built as a universal in-ear monitor (UIEM). Or, view the rest of our Vision Ears collection here, or our other earphones here.
Inquire with us