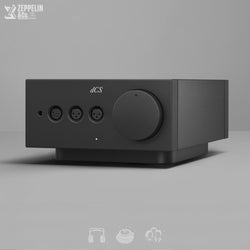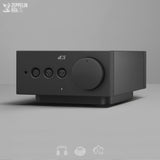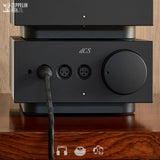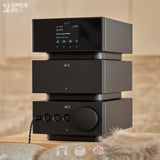 No one knew exactly what to expect from dCS Data Conversion Systems' first separate analog power amplifier, but neither is anyone surprised by the excellence of Lina headphone amplifier anyway. 
Exhibiting remarkable specs on paper, it's immediately apparent how Lina's discrete transistor solid-state reference amplifier product translates those into spectacular audible results – an analog product that proves worthy of bearing the dCS name.
A pinnacle of frequency extension and transparency, Lina headphone amplifier makes its case to be the ultimate, final headphone source you'll ever need – conjuring macro and micro dynamics before your ears while always sounding relaxed and completely natural in its tonality.
READ ALSO How Lina is the perfect amp for Susvara
When fed by dCS' accompanying Lina network DAC, Lina amp's fully-balanced, differential design encased in solid aluminium brings out even more than you thought your flagship headphones could produce. [See Product Desc. For More]