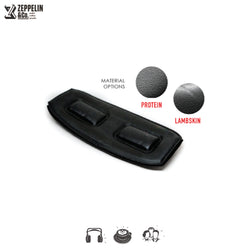 The Best Naming Award goes to ZMF Headphones in 2020! 
Every
ZMF
owner with Zepp gets the
Pilot Pad
, and sometimes they get it for other headphones too, but there were some that did not fit. Well, not anymore. 
Read what ZMF Headphones had to say about it: 
"We designed the Co-Pilot to make your headphones feel weightless and it's true! When the Co-Pilot is attached, your headphones feel like they're floating! Compared to the original Pilot Pad, the Co-Pilot offers more surface area, larger foam pads, and two-sided Velcro attachment with a thinner, sleeker profile.

This design will work with headphone bands that range from 1.95in (48mm) wide and 0.1in (2.5mm) thick to 1in (25.4mm) wide and 0.5in (12.2mm) thick. The total area allotted for headband attachment is 2in (50.8mm). The Co-Pilot was designed to work with most headphones, but it's not guaranteed to work for every headphone. If you're one the fence, the Co-Pilot is the safer choice regarding fit."
===

All pad sales are final. No returns, refunds, or exchanges for hygiene reasons. 
Best looking Headphone Stand
Quality in build and also in looks. Wood always gives a timeless classic feel.