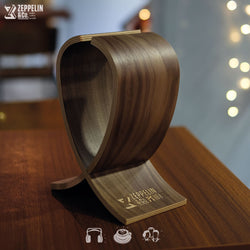 Zeppelin & Co. X Wooden Headphone Stand
Everyone needs one. We picked the best compressed wood with our favourite finishes in Walnut, Zebra & Ashwood and made them in a regular omega shape, or a 2-piece X cross stand for you to tuck the cable away in the middle. 

What do our customers think:
1. Stax customers prefer the X-stand so the cable rests in the cradle.
2. Classic walnut omega is a perpetual favourite.
We think: 
Christmas is coming, and it's the perfect gift for a friend who loves headphones.