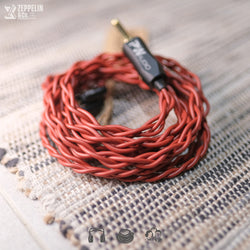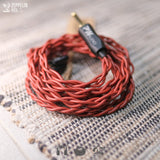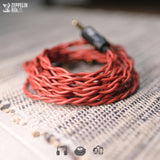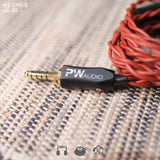 Red PVC shielding means warning, because prepare to be impressed right out of the gate by PW Audio with Ignis. This is an entry-level copper cable that gets so much right.
Neutral U-shaped with a sub-bass boost, tons of midrange space for vocals that breathe, and a pinch of sparkle at the very top, Ignis offers its candidacy to improve any IEM – even a flagship one. 
Clean to a fault, with a deep sense of inner resolution, Ignis simultaneously locks down on any runaway frequencies yet fleshes out the presentation of your music, always making it sound natural.
Its solid PVC build and confidence-inspiring plugs surpass expectations at its price, but you can still step up the design of Ignis to OCC copper on its bigger brother Moloch here.
Also view the rest of our PW Audio cables here, and our other cables here.
Stylish. Sound is good pair with u12t. No stethoscope effect.