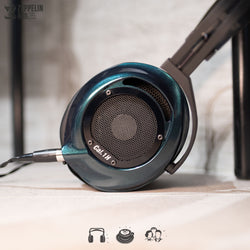 How can something as painstakingly made as CAL.1H be anything other than a labour of love by Altiat. Aumkar Chandan's concept of work well done, work done proudly, is an open-back unibody aluminium headphone precision CNC-machined.
There is a pride of ownership in CAL.1H – few other $700 headphones can boast of being coated in automative spray paint. Available in two different finishes and optional ceramic coating, flair always follows Altiat. CAL.1H's visual spectacle gives way to sound as colourful as the Mumbai coastline where it's made.
Strong bass impact and a detailed pinch of upper-mid sizzle are tied together in a liquid presentation. All the ingredients that are crucial to rendering one of the most complex performances – an unaccompanied tabla ensemble – are on full show.
50mm dynamic drivers made with a PET material infill bring Chandan's talent at tuning – honed at sister company Kaldas Research – to Altiat, giving CAL.1H an exciting yet tastefully accurate response you can count on. [See Product Desc. For More]