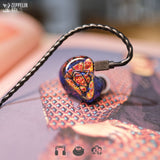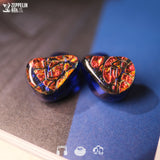 VE7 gives you so much. So, so much. This is a Vision Ears masterclass jam-packed with resolution you don't even have to go looking for, and its accurate tonal balance doesn't hurt.
A new balanced armature from Knowles takes the spotlight as this seven-driver IEM's tweeter. Its transparency and texture can't missed – VE's craftsmen took this new unit and extracted the maximum potential from it via their implementation, supported by new ported Sonion BA counterparts.
Backing up the highlight high frequency performance is a mid-range and bass that are tonally saturated and buzzing with zeal. While accuracy and neutrality is VE7's pitch, never does it stray into sterility. 
A great performance is always entertaining, and Vision Ears did everything to keep our attention from beginning to end. Headfonia added it to their Recommended Buys list for "end-game technical performance, a fantastic treble response, incredible resolution, and transparency".
Headfonics add on to the accolades for "more nuance with a very refined treble and just enough warmth and body", and Twister6 round out the praise for "VE gave neutral a whole new meaning where you can enjoy the sound without a need for a bass boost or a colouring".
VE7 can also be built as a custom in-ear monitor (CIEM) for the final touch. Also, view the rest of our Vision Ears collection here, or our other IEMs here.