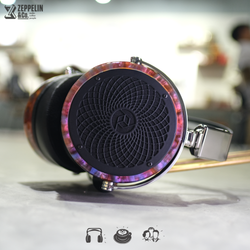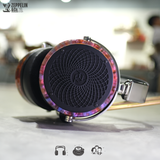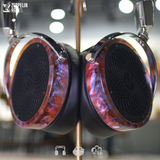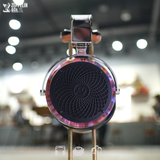 Rosson Audio Design RAD-0 #303
This piece has found an owner and has been named Big Bang with no explanation necessary.
Its owner uses Cayin's IHA-6 and iFi Audio's Zen DAC Signature that he picked up as a package – "It's the only thing I know but it's awesome for electronic music ranging from synth, drum and bass, dub, future funk, tropical house, cyberwave to trip hop, etc".
Visually, Big Bang's design is apt because it really reminds him of the cosmos – the scale, the mystery and the undeniable beauty. Audibly, they really pack a punch and he's totally floored by the RAD-0's ability to deliver such strength, balance, precision and power.
// IF IT'S NOT AVAILABLE, WHY IS IT STILL LISTED? 
We do not archive Rossons that are sold from our page to keep a visual gallery to continue to inspire new RAD owners. If you're interested, click here and look out for those that are without the <ASK THE CREW> tags. You can also reach us directly if there's a look you'd love to have but is already taken.