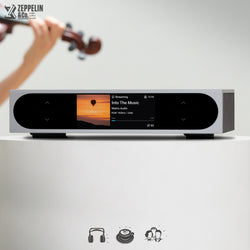 Mini in name, but mega in intention. Matrix Audio's Mini-I 4 lands as a streaming DAC built upon the latest ES9039 chip. Yet its true headline act is the addition of a HDMI ARC input.
Small in size and price-tag, it's Mini-I 4's home-theatre ambitions that extend massively. Boost the sound from your smart TV and projector affordably with Matrix's dedicated HDMI ARC capability around back.
That promise to raise sound quality to match the stunning visuals from today's flagship TVs isn't made lightly. Matrix leverage their close relationship with ESS Technology to build in the exciting ES9039Q2M DAC – a surprise at this price.
ES9039Q2M's patented Hyperstream pulse-width modulation technology from ESS is already a one-up on standard chip delta-sigma modulation. And for Sennheiser and ZMF Headphones aficionados wanting a powerful balanced 4.4mm headphone output, check out Mini-I Pro 4 here! [See Product Desc. For More]