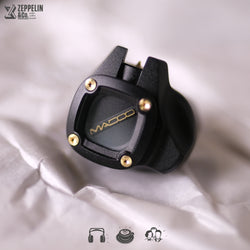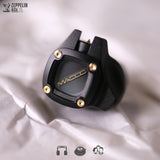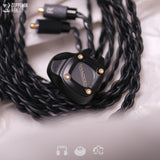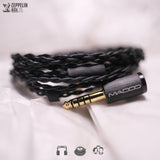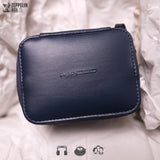 MADOO is a Japanese earphone brand born in 2020. MADOO is a new independent brand of earphones based on a research project by an engineer who studied at Acoustune, a Japanese brand of hi-fi earphones mainly using a single dynamic driver, to create earphones that can compete with their own products, using a different driver configuration.
The development of hi-fi earphones began in Japan in 1981 and will celebrate its 40th
anniversary in 2021. The concept of MADOO is to create a product that will be able to
compete in the next 10 years, something that has never been done before in the 40 years of earphone history.

The first model was developed over a period of about one year, looking at various speaker units and their drive systems, both analogue and digital.

High-rigidity housing
The rigidity of the housing is essential to maximize the potential of the driver unit. The
housing was designed by engineers who have extensive knowledge of metalworking,
having worked on cutting tools for Swiss and Japanese luxury watches and German cars.The housing is produced by machining a SUS block using high-precision CNC machining. The housing surface is sandblasted for hardness and the shell is thick enough for most earphones.

MIAA" housing architecture and precision controlled schematic design
For maximum reliability and performance, we have developed a unique housing
architecture called MIAA: MADOO In-ear Acoustic Architecture. All our products are
developed based on this architecture. We named the component that holds the drivers together the Driver Box. This driver box is manufactured using a 3D printing process and has a complex function called schematic design.

Many multi-driver earphones have a sound tube made of vinyl tubing. However, vinyl tubes suffer from a number of problems, such as the softness of the material itself, the loss of sound due to crushing caused by curvature, and the lack of reproducibility due to inconsistent manufacturing. To solve these problems we have developed a housing
architecture called "MIAA" and the driver box.
Each driver is firmly fixed in place and the sound is guided by an acoustically engineered sound tube. The sound tube is designed using a schematic design and is acoustically optimized with a range of hole diameters, lengths, filters and bores. This makes it possible to deliver great sound. In addition, the 3D printed parts are very precise, controlled to the 0.01mm level. This ensures that the quality of the 3D printed parts is strictly controlled,
reducing manufacturing variations and allowing the user to enjoy the sound quality for
which they were designed.

Micro Square PM drivers and customized BA drivers
The Micro Square Planar Magnetic is in principle a planar dynamic technology driver. Inside a highly engineered metal box, a planar coil is bonded to a diaphragm made from a highly rigid composite of lightweight metal alloy and super engineering plastics in a membrane shape, driven by a powerful magnet.
The diaphragm is driven by a powerful magnet. The direct drive of the coil gives the driver a dynamic tone, while the use of a highly rigid composite diaphragm produces a tight, clear sound. For this project, we used three customized drivers, one for the low frequencies, one for the mid-low frequencies and one for the high frequencies. In order to get the best out of the Micro PM drivers, we used a second-order crossover network with high-capacity capacitors and customized Dual BAs. This gives the sound the right amount of wetness to enhance the Micro PM'S timbre.

Sapphire crystal cover to control exhaust pressure
Sapphire crystal is used to control the pressure at the back, while ensuring a rigidity that cannot be achieved with glass or plastic materials. Manufactured in Japan by Adamant Namiki Precision, a company that produces components for luxury watches and high-end audio accessories, the three planar drivers deliver their full potential and deliver clear bass.