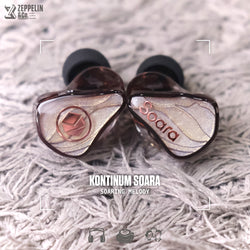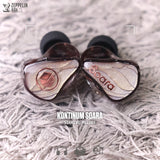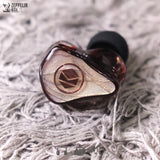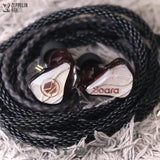 Kontinum release Soara, a hybrid that stands out as a genuine value statement in the world of high-performance earphones.
Resonating with singers, musicians and audiophiles alike, this release from Korea counts on a hybrid blend of three Knowles balanced armatures and one dynamic driver.
Soara is built to ensure a comfortable fit, whether you're on stage or immersed in your musical sanctuary at home.
Coupled with two 8-wire silver-plated oxygen-free copper cable, it embodies the pinnacle of precision, delivering an impeccably balanced sound profile.
This versatility is indeed emphasised with the inclusion of two cables, featuring a standard 3.5mm L-shape connector and a 4.4mm L-shape connector
Get ready for a journey filled with rich, smooth, and impactful auditory sensations, wrapped in clear and precise definition. 
Check out Kontinum's other releases here, or our other IEMs here.