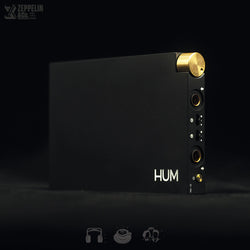 HUM MA1B Black Limited Edition
A 5th Year Anniversary Limited Edition, in the perfect shade of black.
HUM made it easy for us when they showed how portable amplification is done. The equation showed to be perfect right angles housing Class-A power, embracing the 4.4 and finished it with the most perfect gold knob you'll enjoy turning to power your favourite headphones without taking up your desk space. It sounds as clean as its lines, its reputation as understated as its size.
It's 5-5-5 instead of the usual five-eight-nine, because its the Fifth Anniversary Edition for early-birds who adopt it before 15th of July 2020.
===

// Good to know:-

Audio In/Out: 4.4mm TRRRS
Gain Settings: Low Mid High
Battery Capacity: 3800mAh@3.8V
Battery Life: ~ 8 hours
Charging Time: ~ 2 hours
Size: 68.5*105*12mm

// Further recommendations:- 

Thank you but,,
Thank you for nice amp, but volume knob was lot of scratch, a fly in the ointment.
HUM MA1B
Excellent service from Zeppelin as usual 😊