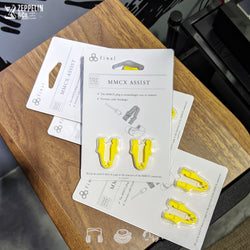 We've seen lots of faces turn blue, pink, purple, green from trying to detach a cable from IEMs with MMCX connection. Corners of shirts were pulled, fingers getting dented from pure brute force. Nails broken- but agony's over when the colour of genius is yellow, yellow like these little helpful clips so you retain your composure during an extreme cable test launch event, or when you're braids shopping. 

Why do we spend time writing about a wee clip like this? We don't know, but we hope you enjoyed reading about it. 

#wesodrama
Quick response and a nice product.
This is a simple tool and eases the pain of removing mmcx connectors. Highly recommended.