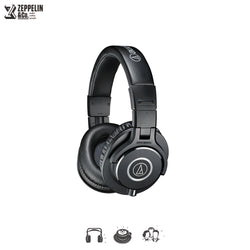 Audio-Technica's ATH-M40x professional monitor headphones are tuned flat for incredibly accurate audio monitoring across an extended frequency range.
Your studio experience is enhanced with superior sound isolation and swiveling earcups for convenient one-ear monitoring.
// Care tip: We recommend changing earpads every year or two for hygiene reasons. Check out the KITO or YAXI range if you need to freshen the headphones up. Bad smelling headphones aren't cool. 
// For added headband comfort: Check out the DEKONI Nuggets.
When you're done with this hit, view the rest of Audio-Technica's line-up here, or browse our other headphones here.
Like you're in the recording studio your songs were recorded in
These headphones are amazing. The sound they produce is accurate and full, where every detail can be heard in your music. Delivery did take a bit but it's of minor concern. Overall highly satisfied with the product.