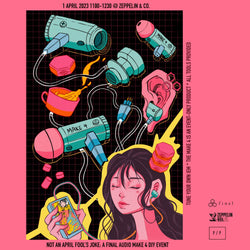 Final Audio Make 4 (DIY Session)
Happening:
Saturday, April 1 2023. 1100-1230h
Zeppelin & Co. (Sim Lim Square #02-78 Singapore 188504)
Ticket entitles you to one Make 4 earphone kit, a set of detailed instructions and guidance, and one complete Make 4 earphone at the end.
Make 4 is a DIY earphone series that allows you to find your own sound. A model equipped with a "MAKE dial" that can adjust the final tuning of your kit, without disassembling the earphone body, and a newly developed driver "f-Core for MAKE" gives you a unique, one-of-a-kind DIY experience ... and an earphone that you can truly call your own.

Hosted by Zeppelin & Co. and conducted by Final Audio and Project Perfection, this Make 4 DIY event will be the perfect way to spend the weekend for audio enthusiasts, with a timeless product and an experience that you will take away at the end.