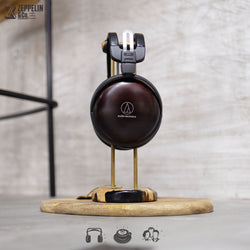 Audio-Technica encase their greatest technology in the prized asset that is Kokutan. Striped ebony conceal huge 53mm drivers reflected by the massive soundstage they generate in the ATH-AWKT. 
The same German Permendur magnetic circuitry that featured first in ATH-ADX5000 makes an appearance here to defy the physics imposed by closed-back headphones, proving that top-line resolution isn't exclusive to the open-backed crowd. 
A W-shaped frequency response tastefully emphasises detail in the mix, keeping the engagement going regardless of a pop or classical track playing. Headfonia equates ATH-AWKT's appeal is very much emotional.
Pair with Cayin's N6II/T01 DAP or Audio-Technica's very own BHA-100, before exploring the rest of Audio-Technica's releases here or our other headphones here.