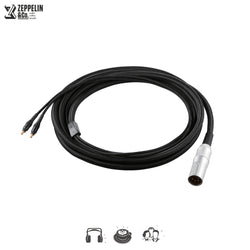 Audio-Technica AT-B1XA Balanced Cable for ADX5000 (3M)
Balanced 3.0m (9.8') cable compatible with ATH-ADX5000 headphones.

A2DC (Audio Designed Detachable Coaxial) connectors at the headphones and a NEUTRIK XLR4 (male) gold-plated output connector with ergonomic, velour-chromium housing.

This 6N OFC + OFC Y-type cable also features a nylon fabric sheath with a highly elastic elastomer inner layer that reduces friction, noise and vibration.