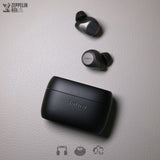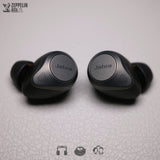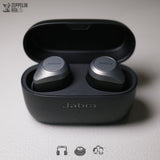 Engineered for calls and music like never before. Fully adjustable Jabra Advanced Active Noise-Cancellation™ in a compact true wireless design.

// FEATURES
- Active Noise-Cancellation (ANC) cancels the noise you don't want to hear; HearThrough (our word for transparency mode) lets in the sounds you do. With 11 levels of sound - from full ANC to full HearThrough – perfectly engineered for the way your ear perceives changes in volume, you'll never miss a beat.
- The Elite 85t buds have been engineered with the most cutting-edge noise-cancellation technology on the market, to give you complete control over how you hear the world around you.
- Fully adjustable HearThrough lets you choose how much of the outside world you want to let in using the handy slider and then access that setting at the touch of a button. So when you need to hear what's going on around you - like when you need to order a coffee – you can.
- Our latest buds are a semi-open design with pressure relief vents, preventing pressure build-up inside the ear, while three sizes of smooth, silicone oval EarGels™ create a secure, noise-cancelling seal, boosting your sound quality and keeping your ears feeling great all day.
- Our advanced digital ANC uses two microphones in each earbud to cancel the noise you don't want to hear before you hear it.
- 12mm speakers, a customisable equalizer and AAC and SBC codecs for rich, detailed sound, bringing you powerful bass in a really tiny body. Big, massive, earth-quaking-window-shaking sound, in a casing so small, you have to see (and hear) it to believe it.
- Developed by our hearing specialists, MySound expertly optimizes and configures your sound via an in-app hearing test, and then calibrates it on your headphones.
- We also added sidetone, so you can hear your own voice on calls (without having to shout) and added our latest and most advanced wind protection algorithms. All of this means your conversations are clear and sharp when it matters, and you can hear your favourite tracks just the way you want to.
- We used our advanced battery efficiency technology to make sure these little guys can keep up with you for up to 5.5 hours on a single charge with ANC on, with up to a total of 25 hours with the compact charging case.
- We've engineered these little buds from tough, durable materials, so they're built to last, with IPX4-rated protection from water. So, if you get caught in the rain, you don't have to worry about your buds getting damaged.

// IN THE BOX
- Elite 5 Earbuds and Charging Case
- 3 sets of EarGels (S/M/L 1 pair each)
- USB-C charging cable
- Documentation