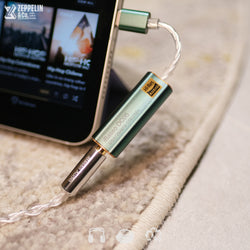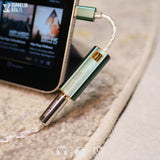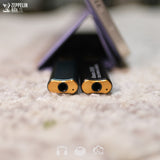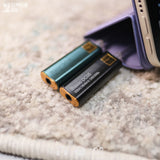 ESS Technology DAC chips debut here in an iBasso Audio USB-C DAC/amp dongle, and boy does it show in the way the 3.5mm DC05 sounds.
Plenty more involvement and detail shows in the way this dual ES9219C dongle that plays Tidal MQA sounds, reminiscent in more ways than one of the flagship DX240 music player.
Headfonia consider DC05 a "very serious option", and Headfonics add it has everything for a 3.5mm DAC/amp. This iBasso made its way into Audiophile-Heaven's Hall of Fame.
To turn your Android, iPad or other mobile device into something mimicking iBasso's reference DAP is no mean feat, but hearing is believing.
Enjoy lots of involvement through the mid-range in particular where the majority of your music lies, though that doesn't detract from plenty of presence still in the lows and highs. 
Drive your favourite earphones and headphones alike through DC05, or browse iBasso's other offerings here and our other DAC/amps here.
Ibasso dc05
Great little dongle Dac, sounds really good, sound stage is wide, bass is punchy not muddy, I'm on android 11, for me, i needed to download the ibasso uac app to properly control volume across all apps, I don't know why, but without the app, it just goes full blast, the manual doesn't even suggest to download the app. It can do mqa but I could only get the purple light only thru USB audio player pro + I had to pay extra to unlock the MQA feature in UAPP, when I ran the tidal app on its own and gave it exclusive control to the ibasso dc05, I don't get the purple light plus it maxes out the volume too.
I'm sure ios users will find using the dc05 less cumbersome.