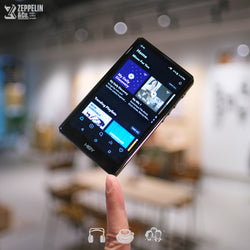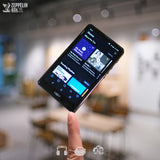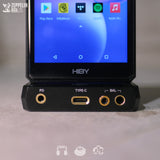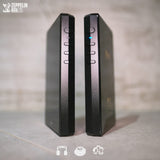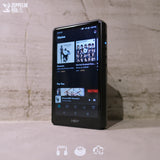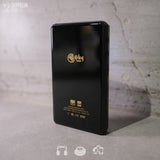 It's devices like R5II that really change the game. HiBy Music disregard this Android 8 music player's entry-level status, taking it to giant-killing heights by building it with a Class A discrete transistor balanced amplifier outputting in 2.5mm and 4.4mm.
It leapt immediately onto Headfonia's Recommended Buys list. Headfonics confirm R5II does it all. There was nothing of note for Twister6 to dislike!
Never mind that beginner DAPs have sounded good for the longest time – HiBy build R5II to sound great and punch way above its weight. Class A shows up in the sound, with a sense of vibrancy and vigour delivering notes with charged energy. There's a trademark HiBy accuracy to frequency response too, coloured yet always correct.
Dual ESS Technology ES9219Cs supply the usual precision as a decoding backbone, allowing you to play back Apple Music Hi-Res Lossless, 16X Tidal Masters and Spotify with no shortage of mobile fidelity. [See Product Desc. For More]
Beat this!
I'm not a "serious" audiophile by any means. The 20-odd years of enjoying music have been on headphones and IEMs that is not more than 400bucks (self inflicted). Demise of headphone jacks led me to OG BTR3, Helm Bolt, iBasso DC05 (same chips!) and the hip-dac2. As much as I love the ifi beauty, I just got weary of stacking. Thus on a look out for a DAP.
Pre-ordered from Zepp (awesome fellas!) almost a month before the YouTube "event". Had a quick audition there and at the price point, I guess the new R5 is the one.
Daily drivers: moondrop blessings2:Dusk
Home use: HD650, HD25
Audio-wise (overall): if the hip-dac2 is velvety, the R5II is clinical. Like an impromptu live jazz in a bar vs the same band in a studio. Clarity clarity clarity across frequencies.
Audio-wise (Class-A): it's not night and day definitely. But personally it is significantly distinguishable. Same layered cake, same baker, same ingredients but somehow for the premium priced (i.e. battery drain) batch you have the sensations of the different layers crumbling in your mouth. Can get tiring (not in a bad way, mind) and more often than not a straight up pleasure is all one needs. I don't know if it's just me, but with the latest update the difference is more apparent.
UI/UX: Coming from a Galaxy Note 20, the sluggishness is apparent. I use this as select playlist, press play and forget so this doesn't bother me much. Using the cover kinda flattens the right side control button, making it difficult to differentiate while in pocket; I turned off the functions while screen is off. Volume controls on the left is fine as there's only 2 buttons there vs 4. With regards to the EQ, with the help of info provided some pages back FR is easily adjusted (minor for me, at max +/-5 out of +/-100) to taste. There's OTA firmware update capability, but it's v1 is still current and there's no testing of that yet.
Battery: lasts as advertised.
Overall: no regrets; enjoying it as I'm typing this out. :wink: