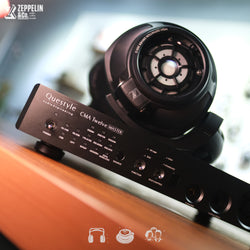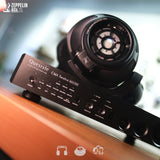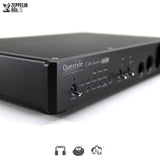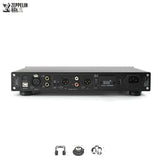 The CMA Twelve was launched to celebrate twelve years since the invention of Current Amplification Technology by Wang Fengshuo (Jason Wang) in his university's lab. 

// DIFFERENCE BETWEEN CMA Twelve & Twelve Master
The CMA Twelve Master has a MASTER laser etching, and features a ROGERS Ceramic PCB to ensure the ultimate performance for sound quality and in specifications. 

// THE QUESTYLE BUILD QUALITY
Their manufacturing partner, Foxconn, setting new benchmarks in technological standards. The chassis of the CMA Twelve has very high efficiency for heat dissipation, which ensures it will work with absolute stability in pure Class A, keeping the temperature at 45 degrees. 
Mechanical vibration will affect audio signal processing and the resulting sound. To avoid resonance, the CMA Twelve chassis is formed from 10mm-thick aircraft-grade Aluminum 6063, with high precision machining techniques of ±0.02mm.

// AUDIO LOSSLESS SYSTEM
Digital audio signals from your PC, music server, CD or Blu-ray can be sent to the CMA Twelve via AES, SPDIF, Optical or USB. The core patented technologies of Current Mode Amplification, True DSD and 3x Clock Asynchronous Transmission allow the CMA Twelve to offer outstanding performance from its DAC and pre-amplifier. The specially designed ADJ/FIX switch is used to match with power amplifiers and active speakers.
>