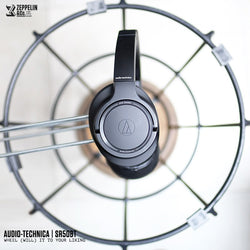 Audio-Technica ATH-SR50BT
Audio-Technica's  ATH-SR50BT noise-cancelling, wireless over-ear headphones deliver the exceptionally pure audio of Sound Reality in a convenient wireless design.
The controls offer the selection of active ambient noise reduction, which gently reduces environmental noise for cleaner, high-fidelity sound.
A separate quick hear-through button can be pressed to hear external noises – voices in particular – a feature that's useful for engaging in brief conversations, hearing public transportation announcements, and the like.
When you're done with this hit, view the rest of Audio-Technica's line-up here, or browse our other headphones here.